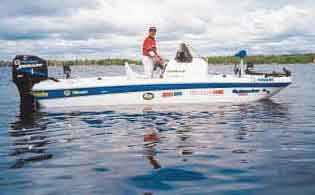 Dear, AMSOIL
I first would like to tell all of you what a wonderful event the AMSOIL 30th Anniversary Convention was. It was my pleasure meeting and talking with dealers and race teams from all corners of the country. Kudos to the entire AMSOIL family for a job well done!
After giving many boat demos of my unique hydraulic steering system, there seemed to be one common question that many people asked me, "Why do you use AMSOIL and what can I say to potential marine users to get them on-board with our products?" That's an excellent question because tournament fishing has exploded in the last 15 years or so. There are literally thousands of tournament fishermen at various levels, fresh and salt water, running big V6 motors. I know these competitive anglers are looking for an edge and are perfect candidates for running AMSOIL.
You can talk about performance. You can talk about reliability. But, maybe the best comeback of all to get the attention of these potential customers is, "You will have presentation and strategic options available to you that your competitors will not have!" I don't know of any competitive angler who could ignore that statement.
Big V6 outboards are notorious for fouling plugs. In the five years I've been with AMSOIL, I've yet to even breakout a spark plug wrench.
Big V6 outboards are notorious for fouling plugs. In the five years I've been with AMSOIL, I've yet to even breakout a spark plug wrench. This is especially important to fishermen who use their combustion engines for presentation techniques. Whether it's hovering over a rocky reef in northern Minnesota in 5-foot waves, or trolling the many offshore fisheries that exist up and down both coasts, there are many scenarios where AMSOIL allows an angler to idle his main power plant for hours, days, weeks, or for that matter, YEARS! The best thing of all is that there is no price to pay on the top end. My boat can idle all day and when it's time to put the hammer down, I'm positive that I will be just as fast as can be and will not be fouled out. I guarantee you conventional oils would fall flat on their faces!
I would like to tell you a little third-person story of a recent In-Fisherman event I participated in.
"Steve motored towards the starting bay on the final morning of competition. In 29th place of 150 places after two days, he was concerned about the weather forecast. With 20-30 mph winds, he didn't know if he should make the 30-mile run to the fish he needed by 12:45 to make it back on time, and probably fish in brutal 4-6 foot waves next to a sandbar. The scenario would not allow Steve the option of shutting off his main engine. To shut the Mercury 175 XST Optimax tiller motor off, would risk being blown hard into the sand bar and along way from help. He would have to let the big V6 two-stroke motor idle all day.
Steve made the decision to make that run. It took him a wild hour-long boat ride to get to the spot in building seas. He caught the quality fish he needed by noon. He made the bone-jarring 2-hour ride back to the starting bay with his prop out of the water half the time. He kept his large 2-stroke engine running for 8 hours in extreme conditions. He got his top ten finish.
"AMSOIL allows me to make strategic decisions that my competitors cannot afford to make! The Professional Walleye Trail may be the most brutal environment of any fishing tour on the planet and AMSOIL protects my equipment and gives me the mental edge to make tough calls. Over the years, I have leaned hard on my oil and equipment. The reliability and performance boost makes AMSOIL the only choice for my boat! Oh, by the way, I'm still running those same plugs from Lake of the Woods!"
Steve Haynes #112
Professional Walleye Angler