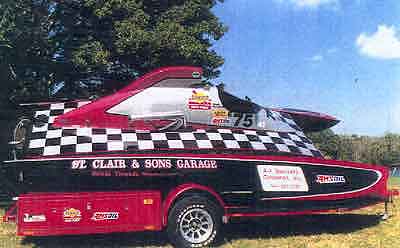 Dear, AMSOIL
Occasionally in my business I encounter chemical products that actually do what they are supposed to do. When this occurs I feel compelled to express my satisfaction to the manufacturers and to applaud them for their commitment to producing only the highest quality products. Your products definitely fall into this category.
My brother and I own and operate an automotive repair business, which was founded by our father in 1947. We also own and operate a racing business through which we race our 5 Liter Hydroplane. I have been involved in the family automotive business for nearly 30 years and have been certified by ASE since 1971.
...we noticed a gain of 200 RPM, and engine wear became so minimal that it is hardly worth measuring.
Our Specialties include:Engine Building, from factory stock to all-out competition; Fuel and Ignition Systems; Engine Control and emission Systems; Transmissions and Drivetrains; Brake Systems; and Air Conditioning Systems.
A year ago, one of your dealers, Joseph Caquatto, introduced us to your products. We have used your products since then, and I have closely monitored the vehicles that we use your products on, including our race boat and our tow vehicle. After evaluating your products for one year, I have concluded that the AMSOIL products that we are using are the best products on the market.
We are currently using:Series 2000 20W-50 Racing Oil, Synthetic 2-Cycle Oil (100:1 Pre-Mix), 75W-90 Synthetic Gear Lube, Synthetic Heavy Duty Grease, P I Performance Improver Gas Additive, Triguard Oil Analysis, By-Pass Oil Filter, MP Metal Protector, Silicone Shield Auto Polish, and Automatic Transmission Fluid.
Initially, we used your products only on our race boat and boat trailer. We felt that the conditions encountered by these vehicles would be the best test of the AMSOIL products. The race boat is continually exposed to very harsh conditions. The engine we use is a 305 cubic inch Chevrolet V-8. The rules for our class state that we can only use stock or stock replacement parts. This immediately presents two problems. 1) It is very hard to find extra horsepower while using stock parts and 2) Engine wear -- especially in the valve train -- is an ongoing problem.
Immediately after switching to AMSOIL Series 2000 20-50 Racing Oil and using the By-Pass Oil Filter after each race, we noticed a gain of 200 RPM, and engine wear became so minimal that it is hardly worth measuring. As a result, we were able to use the same engine with the original parts for the entire 1996 racing season. The total time on this engine is approximately 12 hours. These hours were accumulated through a combination of dynamometer testing, test sessions on the water, and actual racing conditions. The RPM range for 80% of this time was between 4500 and 6900. Cylinder leakdown tests revealed only 1% to 2.5% leakdown. These figures are exceptional.
I change the engine oil completely after 3 races because the racing fuel that we are using is fairly corrosive, and although I do install your by-pass filter after each race and filter the oil for 1/2 hour, I am still concerned about corrosive damage to the engine bearings. I have done oil analysis a few times and the results are very good since we started using the by-pass filter. On one occasion, I took the used oil from the race boat and I installed it in the tow vehicle. I then towed the boat to a race in Raleigh, N.C. and then back to Florida. The engine temperature was lower and the oil pressure was higher. After returning to Florida, I drove the truck another 2000 miles before finally changing the oil. Now I am using your oil in the truck all the time.
Your 2-cycle 100:1 oil is the best that I have seen. I have found that it eliminates carbon deposits and plug fouling while increasing horsepower and reducing engine wear substantially. RPM also increases and it hardly produces any smoke.
I recently started using your 75W-90 gear oil in the tow vehicle and your heavy duty grease on all axle bearings on both the tow truck and the boat trailer. We were having difficulty with bearing and axle wear due to the extreme loads encountered when going to and from a race. Typically, the truck is heavily loaded with equipment and supplies, and the boat trailer, in addition to the boat, is also loaded with equipment and supplies. Add all this load together with highway speeds and it spells disaster for any normal lubricants. We anticipate excellent results from your products.
I just completed a total rebuild on the transmission for the tow vehicle because of torque converter failure and I refilled it with your automatic transmission fluid. Your fluid seems to provide consistent shift points regardless of the transmission fluid temperature. With petroleum-based fluids, the transmission shift points happen later as the fluid temperature increases.
I mentioned earlier in this letter my concerns about corrosion in the race boat engine being caused by the race fuel that we use. At one time, we were seeing light corrosion on the cylinder walls after about one week after a race. We started adding your P.I. to pump gas and running the engine on this mixture for 1/2 hour after each race. This solved the cylinder corrosion problem. After running the engine, we spray your Metal Protector on it before it cools down. This prevents any exterior corrosion problems on any metal that isn't stainless steel. Some of our races are in salt water and your Metal Protector really helps P.I., and is also the best add-to-your-tank fuel injection cleaner that I have ever used.
We are planning to become an AMSOIL dealer now and we will be selling your products to our customers. We have never sold any product in our business that we didn't use in our own vehicles because it's hard to sell something that you don't know anything about. Some businesses will sell blindly to the public, but we depend on our reputation of high-quality, and we sleep very well.
Again, thank you for your commitment to quality and we look forward to a continuing business relationship with your company.
Sincerely,

Arnold D. St.Clair - Engine Builder
St.Clair and Son Garage
Top Gun Racing