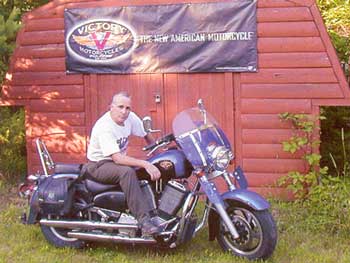 AMSOIL Dealer Tim Werder, "Roadkill" to his friends, has racked up a first on the first new U.S. manufactured full-size motorcycle in 60 years.
Werder, 42, Shawangunk, N.Y., has more than 100,000 "butt" miles on his Polaris-made 1999 Victory V92C motorcycle.
While it's the world's highest mileage for the cruisers since the first Victory V92C production model rolled off the assembly line on July 4, 1998, Werder is an old hand on a bike. He's been riding since he was 16, even traveling more than 10,000 miles by motorcycle on his honeymoon with his wife Christine.
He uses AMSOIL 20W-50 Synthetic Motorcycle Oil (AMV) in the summertime and in the winter switches to AMSOIL SAE 10W-40 Motorcycle Oil (AMF).
The love of motorcycles has always been a theme in Werder's life. He's put more than 100,000 miles on other bikes through the years and faced more than his share of dangers along the way. Five accidents, one that caused him life-threatening injuries, have not deterred him, nor has a 190-mile-a-day round trip commute to his state government job in New York City.
His bike, known as "Traveler," is powered by a 1507 cc air/oil cooled V-twin engine and has a five-speed transmission. The Victory bikes are manufactured in Osceola, Wis., with final assembly in Spirit Lake, Iowa.
Werder rides "Traveler" year round, even in the cold of the Northeast winter.
He owns another Victory, number 219 from the first year of production, and has on order a 2003 Victory Vegas with a new 1507 cc Freedom engine. He expects an early spring delivery date.
He uses AMSOIL 20W-50 Synthetic Motorcycle Oil (AMV) in the summertime and in the winter switches to AMSOIL SAE 10W-40 Motorcycle Oil (AMF). He also has installed an AMSOIL SMF-103 Oil Filter.
"I recommend this combination to my Victory customers as well," Werder said. "I'm extremely pleased with the results I achieve from the AMSOIL products, and I've specifically had oil analyses performed to maintain awareness of fluid performance."
His earned the nickname "Roadkill" because "I've hit five deer, all while motorcycling, never in a car," Werder said. In one of those acddents, Werder nearly lost his leg. His wife and two sons share his love of motorcycles and work with him in his AMSOIL business.
He is former national vice president for the Victory Motorcycle Club and former corporate ride coordinator for the Victory Riders Association. He organized group rides for association members during the group's first year. Werder joined the Marine Corps in 1986 and went to basic training on Parris Island. There he may have logged another first — as oldest recruit.
Drill instructors repeatedly made him yell out his age. "Sir, I'm 26, Sir!" Werder recalled of his time there. He became a logistics/embarkation specialist staff sergeant with Aerial Refueling Squadron VMGR- 452, Newburgh, NY. That unit was reactivated on Feb. 8, 2003 and sent to the Middle East. They haven't seen active duty since the Persian Gulf War.
The veteran rider has logged nearly 500,000 miles on motorcycles. "My 26 years of riding has brought me to a butt-total of over 479,000 miles, including three 100,000 plus-mile motorcycles with a variety of trailer and sidecar-towing duties, and even though I live in the Northeast, I normally ride through the seasons, expecting my bikes to accept what I dish out. AMSOIL gives me the confidence to do so," Werder said. "I anticipate the 500,000-mile mark this summer, and always recommend AMSOIL to fellow riders, regardless of the make of bike they ride."
He caters to motorcycle riders in his AMSOIL business, especially Victory riders, he said, but he may expand that business when he retires from his full-time job. "I consider myself a voice for many motorcyclists, and am a long-time member of the American Motorcyclist Association, Motorcycle Rider's Foundation and ABATE," he said. He also maintains an online publication "The Victory Digest."
As Roadkill says, "Ride on."