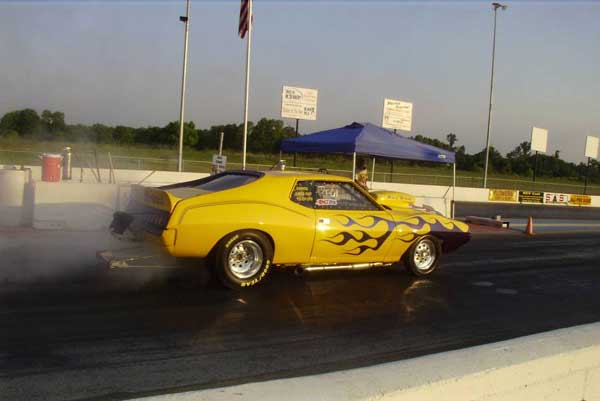 Richard Giddens finds AMSOIL an Invaluable Asset for his Prize AMC Race Car.
About three years ago a friend told me about AMSOIL products. He explained how they would conserve fuel in my Dodge pickup truck. At first I was skeptical. I thought this was just another product promising to work better than anything else. After some convincing I gave in and tried AMSOIL. My Dodge pickup was a 2000 year model with 140K miles on it. My truck typically got 19-20 MPG. That following weekend we traveled to West Texas. I carefully calculated the mileage. . .then recalculated the mileage. I was amazed to find that my truck actually got 22.23 MPG after switching to AMSOIL. That is an increase of 3 to 4 MPG.
This was 8 MPH slower than the typical 133 MPH I was getting with the AMSOIL product.
I became a believer in this product. I added it to all of my vehicles including my 2002 41Ft. CAT Diesel motor home, 1971 AMX Javelin show car, and a 1971 AMX Drag Racing muscle car as well as my wife's 2004 Chevrolet Avalanche pickup. The performance of all the vehicles improved, especially my 1971 AMX Dragster. This car has an 800+ HP engine with a 15:1 compression ratio.
After 10 runs down the strip the cam distributor gears went out. I replaced the gears and added standard 20W 50 Castrol racing oil (not AMSOIL). The car performed at 125 MPH in the quarter mile on the first run. This was 8 MPH slower than the typical 133 MPH I was getting with the AMSOIL product. On inspection of the car after this run 1 discovered that the new gears had also stripped out. Apparently the gears had never been compatible. I replaced them once more and this time added AMSOIL. My car resumed its outstanding performance on the track at 133 MPH in 10.38 seconds. I also believe that AMSOIL actually preserved my car's gears for those first 10 runs and they would have stripped sooner without AMSOIL. Now at 191K miles, my Dodge diesel pickup continues to perform well and maintains the 22 to 23 MPG.
Richard Giddens
The incompatible timing gears on the distributor of the AMX Drag Car lasted 10 runs before stripping out when lubricated by the AMSOIL Series 2000 20W-50 Racing oil. The next set of distributor timing gears were also incompatible and only lasted one 1/4 mile pass with Castrol 70W-50 Racing oil.