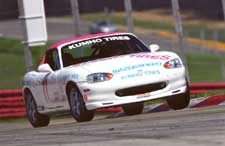 I am a member of the Sports Car Club of America. I race a Showroom Stock B, Mazda Miata. I have been racing SCCA since 1980 and have many regional and national championships. I've won the SCCA Northern Pacific Championship in SSB for 2003 and 2004. I am leading the Southern Pacific Division for 2005. We run 8 to 10 National races a year and we always do the SCCA National Runoffs in Lexington Ohio. Starting in 2006 it will be held in Topeka, Kansas.
...we averaged 7.8 miles per gallon. The year before we averaged 6.3 miles per gallon.
I have been using AMSOIL in my race car for about 2 years and found 2 advantages over the oil I had been using for years previously. I noticed lower oil temperature and an increase in horsepower. I also changed my tow vehicle over to AMSOIL. I use AMSOIL engine oil, transmission fluid, differential lubricant, and diesel fuel treatment.
My tow vehicle is a 2001 Holiday Rambler, 36 ft. diesel pusher. I immediately saw a 30° temperature drop in the engine oil and a 40° temperature drop in the transmission. That is very impressive!
To top it off, we saw an increase in fuel mileage. On a 5,000-mile trip, last year, we averaged 7.8 miles per gallon. The year before we averaged 6.3 miles per gallon. That is a very impressive improvement in mpg for a 30,000-pound motor home pulling a 24-foot trailer that weighs 6,500 lbs when fully loaded.
Another plus is the water temperature never went over 180° after I switched to AMSOIL. Before AMSOIL, the water temperature would go over 200° on small hills and I would have to turn off the A.C. to go up steep hills and I had to turn on the heater to cool down the water temperature.
Sincerely,

Richard Crites
Brea, CA