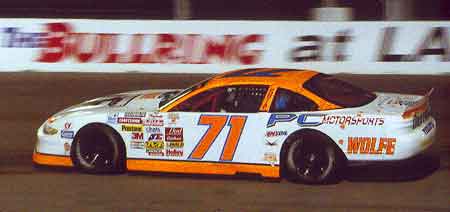 Dear, AMSOIL
I am writing to inform you of the great season that was put together by our Wolfe Motorsports Team. We started using AMSOIL Series 2000 20W-50 Racing Oil in our motors at the beginning of the 2001 NASCAR Late Model Season at the "Bullring" in Las Vegas, NV. Even during the hottest months of the summer, where the temperature was as high as 115 degrees, we never had to change a motor. Heck, we didn't even take the motor out of the car to change pistons and rings. While other teams were going up in smoke, due to oil breakdown, we continued to run strong all year.
Again, with the help of your Series 2000 75W-90 gear Lube, it kept our gears smooth and cool all year long. After using the gear lube for the first time we decided not to even run a rear-end cooler on the car. Our gears stayed nice and fresh throughout our championship year. We also use your MP Metal Protector on a daily basis while working on the cars. We even cancelled our free use of WD-40, your MP just works better.
From all of us at Wolfe Motorsports, we would like to thank you for making such a great product that withstood even the hottest of hot days out here in the desert of Las Vegas and saving us thousands of dollars in motor rebuilds.
Thanks again for the great product!
Sincerely,

Jason Allen
2001 NASCAR Late Model Champion
2001 NASCAR Late Model Rookie of the Year