---
Q. What is the largest packaging AMSOIL provides for its products?
A. The largest standard capacity packaging AMSOIL provides for lubricants is the 275-gallon tote.
Note: Tanker load shipments of 3,000 gallons minimum are also available, but only via quote. Contact the AMSOIL Sales Department for details.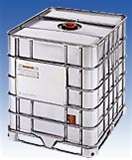 Q. What is a tote?
A. A tote is an alternative packaging option that provides a means to deliver more product than the industry standard 55-gallon drum. Totes can do the job of five 55-gallon drums, sharply reducing the time and labor required for filling, emptying and handling multiple containers. Totes also eliminate the high cost of maintenance, return transportation, and the disposal of empty 55-gallon steel drums.
Q. What are totes made of?
A. Totes are constructed with an 8-ply corrugated outer shell. The inside bladder liner is a 3-ply 11-mil thick Flexi-tech recyclable heavy duty plastic. The container is secured to a standard shipping pallet for ease of delivery and mobility. The strength and durability of this style packaging has been proven over the years.
Q. Are there disposal issues associated with totes?
A. Appropriate disposal is always something to be aware of. Totes are completely recyclable, biodegradable, and waste-to-energy efficient. In the majority of cases the corrugated outer shell can be recycled with paper, and the inner bladder may be recycled with plastics. The shipping pallet platform may be reused for any shipping application. These can all be very good selling points as many companies have concerns about the costs associated with disposing of empty drums. It is recommended that authorized local authorities be consulted to verify acceptable disposal practices. Also, as a general rule, purchasers of lubricants usually have established disposal practices, a responsible party within the organization, and direct contact with disposal authorities, so proper disposal is rarely an issue.
Q. With supply storage space at a premium, doesn't a tote take up more space than an equivalent amount of lubricant in 55-gallon drums?
A. Actually, the space required to store a tote is less than that of five 55-gallon drums. And totes can be stacked four high, which is extremely space efficient in warehouses with high ceilings. And don't forget, empty totes can be broken down and recycled, so there is no need to store the empty product containers.

Q. What AMSOIL products are available in totes?
A. Generally speaking, most every AMSOIL lubricant can be packaged in a tote. But it is recommended to verify this with AMSOIL INC. in Superior, Wisconsin before committing to a customer.
Q. If totes are not listed in the AMSOIL price lists does it mean that the product is not available in that package size?
A. Often the price for a tote is not listed in the AMSOIL price lists. Once again, it is recommended you contact AMSOIL directly to verify a product's availability in totes.
Q. If there are not prices listed for the totes, how do I know what the price is?
A. Contact AMSOIL for pricing on the totes. As a general rule-of-thumb you can "estimate" the approximate price for a tote with the following computation:
(5 x Price of the product in a 55-gallon drum) - $50 = 275-gallon tote price.
Q. Are totes available in the distribution centers?
A. Totes are not normally stored at the distribution centers unless there is a customer who has developed a consistent track record of tote orders and the servicing Dealer has worked out the details with the appropriate regional sales manager. Otherwise, totes are packaged and shipped from Superior, Wisconsin.
Q. How are lubricants dispensed from a tote?
A. There are two methods for dispersing lubricants. The first is a gravity feed system utilizing a ball-cutter valve (G1189, $49.45)
| | |
| --- | --- |
| | |
| cutter valve | Screw in the G1189 and push in the plunger |
| | |
| Pull back the plunger and turn valve | Unscrew plunger |
| | |
| Threads are 2" NPT | G1434 Suspension Jig |
The second method is by using a tote pump. This device requires another accessory called a suspension jig (G1434, $177.80) to be first fitted across the top of the tote, which the pump itself is mounted to. This eliminates pump vibration and stops the end of the pump from reaching the bottom of the tote where it could potentially damage the plastic and cause a leak. As a side note, many customers have a metal shop where they can fabricate their own pump support systems at a lower cost using onsite materials.
AMSOIL does not sell the pumps directly, but does provide recommended equipment sources:
Some businesses will use totes to fill their own onsite/on premises storage tanks. A word of caution for this scenario; investigate what the previous fluid/liquid was that was stored in the onsite tank. Otherwise you risk the potential for contamination of the AMSOIL lubricant being pumped out of the tote into their storage tank. This may result in contamination (i.e. motor oil being drained into a tank that had previously stored anti-freeze would present a significant problem).
Q. Are the freight charges expensive for shipping a tote?
A. Totes are charged the standard shipping rates based on the published freight rates found in the AMSOIL price lists. It is worth noting that the cost of of a the tote will often qualify the customer for a discount based on the Freight Discount Schedule also found in the AMSOIL Price list. There may be an additional charge for lift-gate service if the customer does not have proper equipment to unload the tote. There is nothing worse then the tote reaching its final destination and the client cannot offload the unit. Check with the nearest AMSOIL distribution center for lift-gate service rates should you encounter this situation.